My Day on a Plate: Nutritionist Michele Chevalley Hedge
Michele Chevalley Hedge is a qualified nutritionist and founder of A Healthy View. She is an author, corporate and school speaker and can often be heard on radio or TV. A Healthy View has four clinics in Sydney and their New York office just opened to coincide with her Low Sugar Lifestyle online program. Michele is a Jamie Oliver FRD ambassador, Cure Cancer ambassador, Heart Research Institute ambassador and has been nominated by the Australian Traditional Medicine Society as the Highly Commended Practitioner of the Year 2016. Michele works with corporates and schools daily on achieving realistic nutrition and lifestyle plans. The thing that excites Michele the most is the emerging evidence in nutritional medicine and mental health - if you ask her about it - be prepared for a passionate talk. Michele has a fantastic philosophy and is doing some amazing initiatives in spreading her message. GoodnessMe Box sat down with Michele to hear her view and find out what her typical day on a plate looks like.
6.00am
Check on our silly dog, Hampton. Pop a load of laundry on. Have a water or a cup of green tea whilst tying my runners quickly to get out the door to meet with friends for some type of exercise. It might be a run with lots of chatting, a vinaysa yoga, a spin class, but usually something that incorporates HIIT. Being time poor with three teenages, a busy husband and a dumb dog and a bustling business, I like to be social and exercise. I love both! And yes, of course, I have a piccolo latte with the girls before rushing home to the family.
7.30am
Breakfast is often some kind of eggs. Poached, hard boiled, scrambled and then I add pesto, salsa, guacamole and whatever veggies I have left over from dinner or a bed of rocket. I keep things simple. When they are simple and tasty then they are repeatable and that is when a habit is created. My children do the same. Keep things clean and simple. Sometimes I have smoothie that is packed with berries, coconut oil, flaxseeds and almond milk. Flaxseeds always feature in or on my breakfast. Keeps the digestion moving!
10.30am
A cup of tea and some nuts. Keeps my blood sugar balanced and from me dipping into a state of 'hungry.'
1.00pm Lunch
I love a lunch bowl. Veggies, a bit of quinoa, sweet potatoe, or brown rice, with some type of protein is what can be found in my bowl. It can be tuna, legumes, or leftover from the night before. I am big on 'cook once, eat twice' for the time poor person. I encourage a little bit of carb at breakfast and lunch for the person who needs to have their brain switched on. Good carbs fuel my brain and energy up all day. And without this fuel, I think we are putting ourselves at risk for adrenal exhaustion.
6.30pm Dinner
I love dinner with my family. Again there is always a protein of some kind (often fish) and a salad, a huge tray of roast veggies or a mixture of steamed or stir fried vegetables. I keep it simple and add spice. I am mad about spices, herbs and flavour. There are only some vegtables and proteins but if you add moroccan spice, thai spice, mexican spice, etc you can create lots of delicous flavour. I enjoy a glass of wine a few nights a week or I am putting my sparkling water with lemon in my wine glass.
9.30pm Bed
Sleep - I guard it with my life. It's as important as my nutrition.
Sample Recipes
Citrus Salmon and Quinoa Salad
Prep time: 25-35 minutes, Cook time: 10-15 minutes, Serves: 4 Salmon you feed our brain! We love salmon for the essential fatty acids and the quality protein. Omega 3 EFA as vital for our brain health. Quality proteins are sensational for keeping our blood sugar balance and therefor our moods and energy balanced.
Ingredients for salad:
3/4 cup uncooked quinoa
1/2 cup grated carrots
1/2 cup chopped capsicum
1/4 cup chopped parsley
1/4 cup chopped coriander
1/2 Spanish onion
1 tsp. of lemon juice
1 tsp of lime juice
1 tbsp orange juice
2 garlic cloves
1 tbsp tamari soy sauce
2 tbsp olive oil
1 tsp fresh ginger
1 tsp of fresh chilli
1-2 tbsp sheep's milk yoghurt
Marinate for the salmon:
1 tbsp lemon juice
1 tsp lemon zest
1 tbsp of lime juice
1 tsp lime zest
1 tbsp orange juice
1 tsp orange zest
4x 150-200 grams salmon
Method:
Rinse quinoa and drain. Add 1 1/2 -2 cups of water, bring to a boil, cover and simmer for about 15 minutes, or until the water is absorbed. Remove from heat and let stand for 10 minutes. Fluff with a fork and let cool.
Mix carrot, capsicum, parsley, coriander and Spanish onion in large bowl. Add room temperature quinoa and toss to combine. Whisk together lemon, orange and lime juices, tamari, ginger, garlic and chilli. Pour over salad and combine well.
Place all the citrus dressings in a bowel including the salmon and let it marinate for 10-15 minutes. Lightly pan-fry the salmon until slightly pink in the middle.
Serve salmon on a bed of the Quinoa salad with a dollop of sheep's milk yoghurts. ENJOY!
Blood Sugar Balanced Baked Eggs
Prep 12 mins, Cooking time 25 mins This is a delicious way to enjoy eggs & lots of veggies very simply. The eggs are high in vitamins & minerals supporting shiny hair, strong nails & glowing skin. Eggs also help brain function, reduce inflammation, boosts weight loss and are a good source of iodine, choline and zinc. Zinc is important for our immune system and 100's of biochemical processes. Kale & onions are excellent anti-inflammatory foods, ultra important for fertility and great for heart health. Kale is high in vitamins & minerals A, C, K, iron & calcium. This is an easy way to ensure you are getting plenty of leafy greens.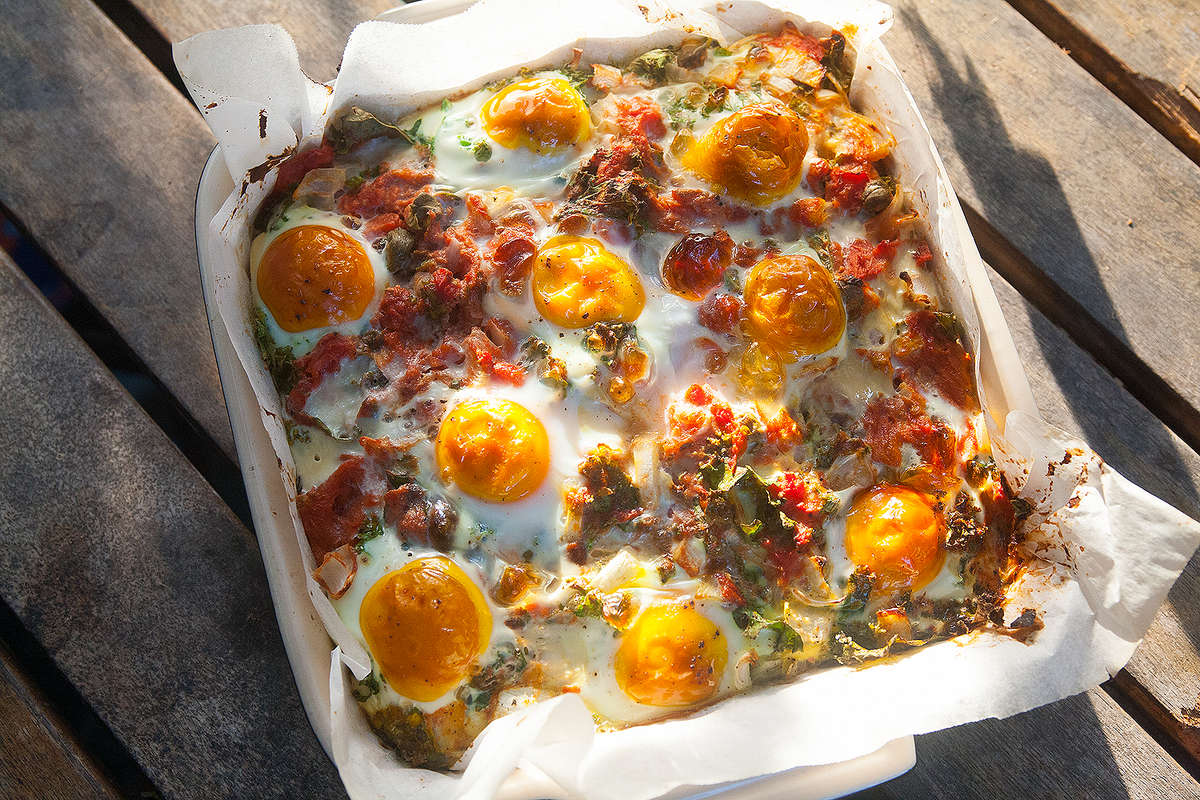 Ingredients:
1 tbs Coconut Oil
2 Onions Chopped Roughly
½ cup mushrooms chopped finely
1 cup Kate chopped roughly
2 tbs Fresh Tarragon, basil or parsley chopped finely
1 can chopped tomato
1 cup Cheese grated (optional) I use goat gouda
6 eggs
½ tsp sea salt
1/8 pepper
Season with salt and pepper
Method:
Preheat oven to 180c
Line a 23 cm baking pan with wax paper
Heat fry pan with coconut oil & brown onion 3 mins
Add mushrooms, sauté 2 mins
Add canned tomatoes, herbs, kale, turn off heat
Pour mixture into baking pan
Add eggs one at a time
Add salt and pepper to baking pan
Top with cheese (if using it)
Place in centre of oven- bake for 20 minutes
Vietnamese Prawn Summer Rolls
12 rolls. Serves 4 people. Prep 20 mins. This is a fun, fresh and easy recipe loaded with flavour! If food is tasty, yummy and easy it is sustainable. The crunch of the lettuce as you bite into each roll is a little party for your mouth. Cos lettuce instead of Butter lettuce because it is more nutritious, with vitamins A, B, K, calcium, iron, omega-3 amino-acids and minerals. The herbs, lettuce, carrots and cucumber are all wonderfully anti-inflammatory, all great for weight loss and loaded with macro-nutrients, fundamentally important for mental and physical health.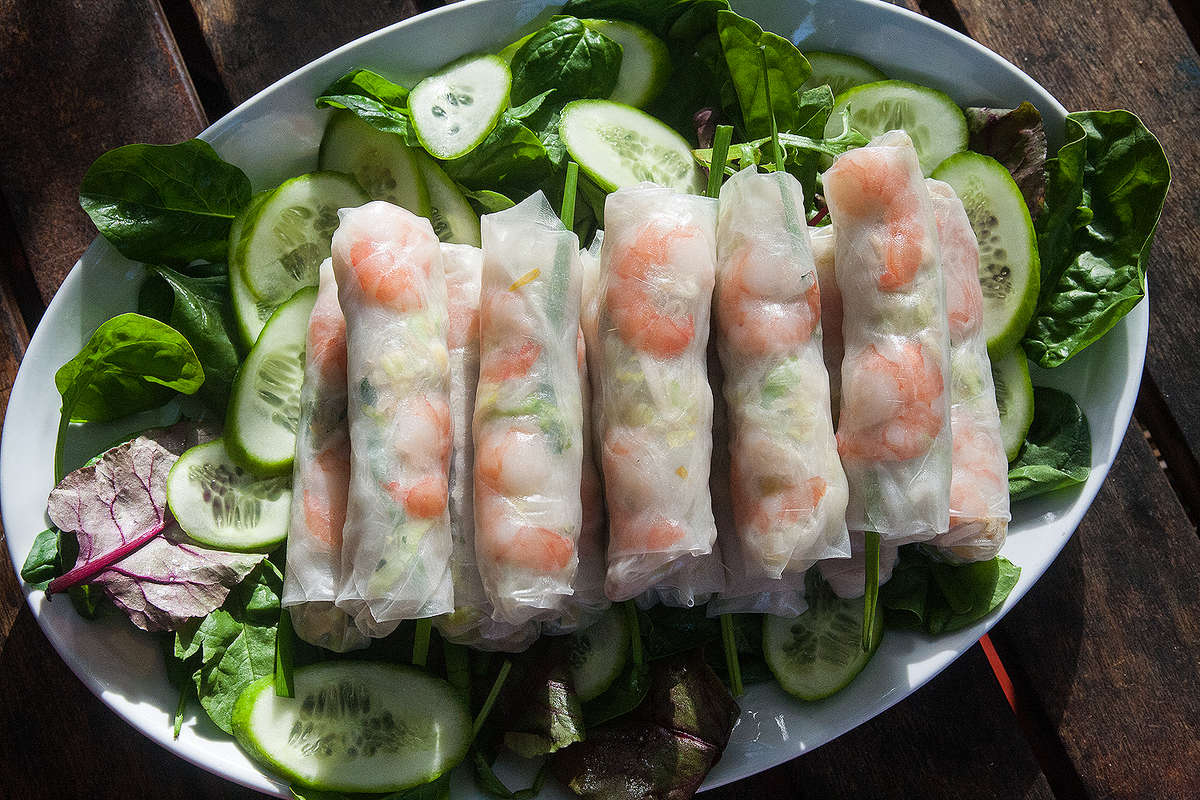 Ingredients:
100g vermicelli rice noodle
12 x 20cm round rice paper.
¼ cup mint.
18 cooked prawns, cut in half lengthways.
2-3 large Cos lettuce leaves, torn into 12 pieces.
1 carrot, julienned-[cut in thin strands]
1 cucumber, julienned-[cut in thin strands]
¼ cup coriander.
¼ cup Thai basil.
Dipping sauce:
2 Tbsp Tamari
1 tsp fish sauce
½ Lime squeezed
1 tsp Rice malt syrup
Method:
Soak rice noodles in a bowl of boiling water for 10 mins, then drain well.
Dip one of the rice papers in a bowl of hot water, until the whole wrapper is soft – about 10 secs
Place the rice paper wrapper on a board and add a few mint leaves, then three prawn halves.
Lift the edge of the rice paper wrapper nearest to you over the filling and, holding the filling in position with your fingers, start rolling up tightly.
And place some lettuce on top of the prawns, then some noodles, carrot, cucumber and herbs. Don't overfill or they will be hard to roll.
When you're about halfway, fold the ends of the rice paper in and over the filling so that it is completely enclosed.
Keep rolling tightly until the whole rice paper wrapper is rolled up.
To make dipping sauce
Blend all sauce ingredients together.
Raspberry Happiness Balls
Health benefits (don't tell the kids they are healthy! 'healthy' should not be used as that creates the perception of deprivation or not fun!). Cashews are a great source of monounsaturated fats, antioxidants, and magnesium. Anti-inflammatory properties and more antioxidants galore from nature's candy 'raspberries.'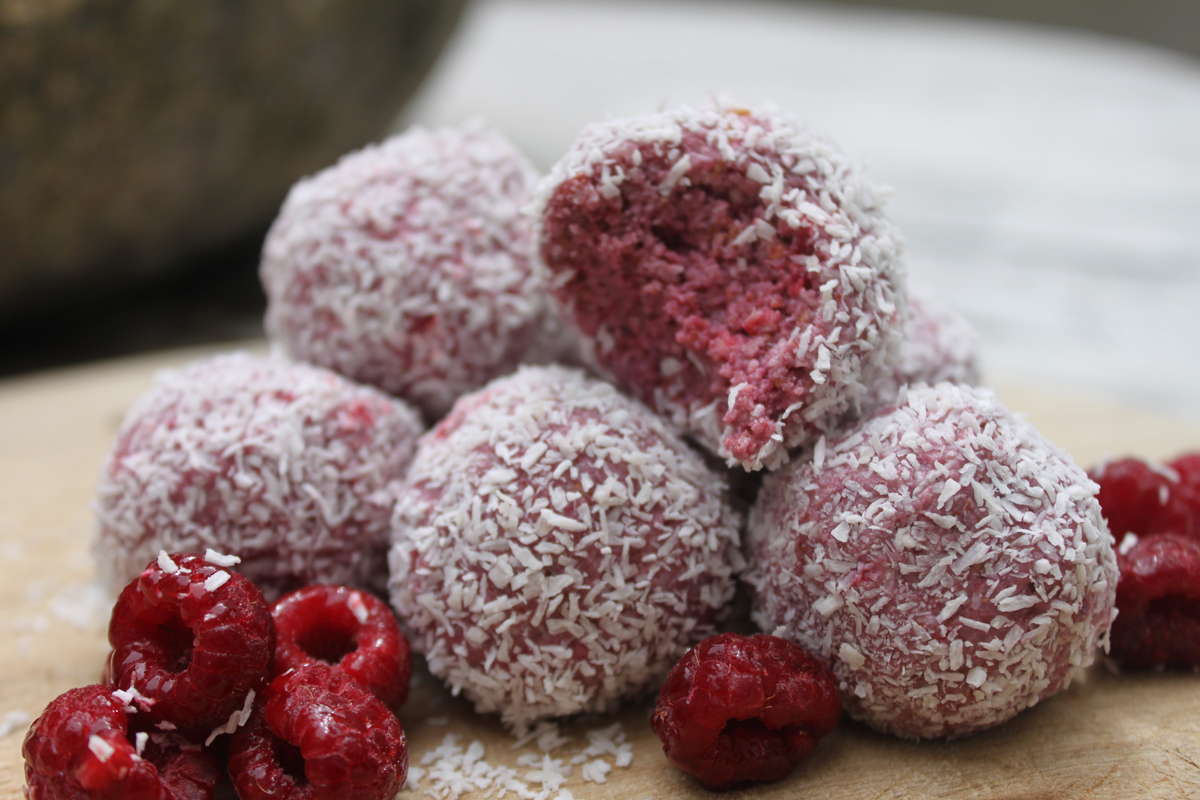 Ingredients:
70g (½ cup) cashew nuts (nut-free below)
80g (1 cup) desiccated coconut
½ cup frozen raspberries
2 tablespoons sweetener (rice malt syrup or maple syrup)
Zest of one lemon (optional)
¼ cup extra desiccated coconut to roll them in
Method:
Grind your cashew nuts in a food processor
Add the coconut, raspberries, sweetener and optional lemon zest.
Mix to combine
Roll into balls and then roll in more coconut if you like.
Store in the freezer and serve from frozen. Enjoy!
Variations:
Nut-free - Substitute the cashews with toasted sunflower seeds or rolled oats (grind as you would the nuts).
Low-fructose - Choose rice malt syrup as your sweetener.
Choc-raspberry - Can't help but want chocolate? Add a tablespoon of cacao to make them choc-raspberry.
Store them in the freezer and if packing in a lunchbox, pack from frozen and against and ice brick. To find more recipes and Michele's Low Sugar Lifestyle 28 day online program, visit www.ahealthyview.com