Good Morning Granola!
What better way to start the day than having something already prepared that is SUPER easy, super healthy and you know exactly what has gone into it?
INGREDIENTS
3 cups oats
1 1/2 cups coconut
1/2 cup walnuts / chopped
1/2 cup almonds / chopped
1/4 cup Pumpkin seeds
1 tbsp cardamom
1/4 tsp salt
1/4 cup maple syrup
1/4 cup coconut oil
1 tbsp vanilla
Dried fruit: Add whatever dried fruit you like; raisins, cranberries, blueberries, strawberries.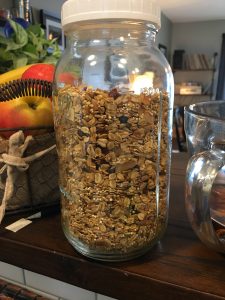 .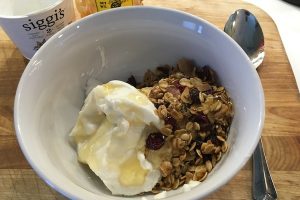 METHOD
Preheat oven to 300 degrees.
Mix dry ingredients in large bowl.
Add wet ingredients to dry.
Mix/coat well.
Spread mixture evenly onto baking sheet.
Put in oven and bake low and slow.
Check every 10/15 minutes in the beginning, stirring mixture. The idea is to get the moisture out of the mixture while toasting. As the moisture leaves, you need to check more often. Toast until desired toastieness :)
Once done, take out of oven and add dried fruit. Mix well.
Let cool and store in mason jar.
  As well as all of the awesome recipes we have on A HealthyView we also have FREE ebooks - Why not check out Mayvers Naughty but Nice Download NOW! It is crammed full of YUMMY snacks!